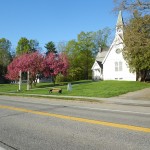 Early settlers to Westport first organized a religious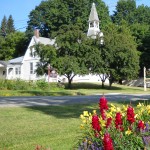 congregation in 1807, over two hundred years ago. Meetings were held in private homes and later in the schoolhouse. This church group was called the Northwest Bay Church. In 1816 the church changed its name to the First Baptist Church of Westport.
In 1828, the first church building for this faith was constructed at the top of the Washington Street hill (now Stevenson Road). From this vantage point, a lantern was used to signal to the townspeople that a meeting would be taking place. In 1839, the structure was moved to the present site on Main Street.
Although a huge undertaking, the moving of a church from one location to another was not uncommon two hundred years ago. Church members came together with horses and oxen and chains and screws and all things needful to accomplish this feat.
When the Great Fire of 1876 swept through Westport taking all the structures on the west side of Main Street, the church burned to the ground. The church, a Gothic Revival architecture, was rebuilt in 1877. Later an addition, named Beebe Hall was built as a social hall and housed Sunday school.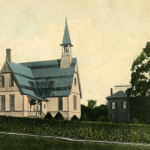 In 1939, due to lack of worshippers at both the Baptist and Methodist churches, the congregations merged forming the Federated Church
In the 21st century, Westport, along with other towns along Lake Champlain, wanted to establish visitor centers to showcase the history of their towns and tell visitors what there is to see and do along the by-way. Thus Westport Heritage House was established. Today the building serves the community as:
A place that links Westport to the history, arts, and culture of the region
A center that connects multiple generations and interests to foster a dynamic community
A house to welcome visitors to Westport where they can discover and experience its spirit of place
In the summertime a volunteer Ambassador is on hand to greet visitors to Westport. Year-round the Westport Heritage House serves the community as a space for meetings, social events, art exhibits and craft fairs, concerts, lectures, dance and yoga classes, scout activities and even bingo.
Come in and enjoy the beautiful stained glass windows, each donated by prominent local families of yore. When passing this lovely church in the evening, notice the often illuminated stained glass rosette on the front façade. Spend time viewing the historic exhibits in the showcases and the historic artifacts, all on loan from members of the community. Each tells a story of part of Westport's history. Walk around and savor the feeling of this 19th century church or view a 21stcentury art exhibit. Watch some videos or a slide show, look at the exhibition cases or talk to the volunteer Ambassador to learn more about Westport.